Translation of general and commercial documents with an excellent quality/price ratio and flexibility with regard to delivery times Language adapted to the original tone and style, placing special attention on cultural differences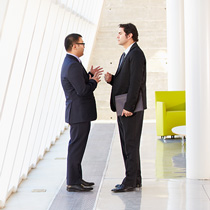 Our understanding of general translation is something that is not related to a specific field: correspondence, corporate communication, journalistic texts, etc.
Language plays a hugely significant role in a company's image. A text's style is often perceived by the recipient as a reflection of the sender's personality, or even of their level of knowledge on the subject in question.
For this reason, in commercial documents and general communications it is essential to pay careful attention to the original style and tone in order to preserve the intention of the person who composed them. An extensive knowledge of the recipients' cultural context is also vital in order to avoid errors.
We collaborate on the translation of numerous documents on a daily basis for leading companies in the financial, technology, and construction sector, as well as municipal and government bodies.
Translations by native professionals who work into their mother tongue. The final text will be as fluent and natural as if it had been written in the target language.
Personal and flexible service. We provide tailored quotes that take into account your company's requirements.
Top quality translations at competitive prices, with flexible delivery times, and strict compliance with deadlines, since we are aware of the negative impact a delay in providing these types of documents can have on a company's image.
Total commitment to confidentiality, which we ensure with our professional ethics and our security protocols with regard to the storage of data and documents