Proofreading is reading a text carefully in order to identify and eliminate typographical, spelling, grammatical, style and punctuation errors. In translation, proofreading is the only way to be certain that your final product is polished, error free and accurately conveys the source text's message and tone. All translations should be proofread before being finalized.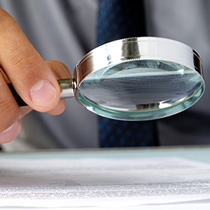 Why is professional proofreading important?
Errors in translations can occur for a variety of reasons-insufficient knowledge of the source or target language, lack of information about the subject at hand, the speed at which the translation was performed, or even something as ordinary as carelessness. Whatever the reason may be, it is of utmost importance that these types of errors not appear in the final version of your document. Proofreading eliminates common errors which, if they were to appear in your final text, could damage your image or your company's image.
Any document bearing your name or your business' name should be impeccable because, ultimately, anything that bears your name reflects the quality of your work no matter what industry you work in. We have all seen poorly translated menus during our travels, corporate websites that contain spelling errors when looking for a new service provider and resumes which lack coherence in terms of verb tense during employee searches. These are just a few of the errors we come across in our daily life that could have been eliminated if the menu, website or resume had undergone a thorough revision before being finalized. These mistakes, however minor they may appear, undoubtedly negatively impact the way potential customers view a restaurant, potential clients view a business and how potential employers view a job applicant.
What types of documents should be proofread?
Ideally, all documents should be proofread before they are finalized in order to ensure that your public image reflects you or your company in the best possible light. The business world is extremely competitive. Don't give potential clients an edge by presenting anything to the public eye that is less than perfect.
Do you have a translation that you want proofread? A document that you have written but would like a professional to proofread? If so, fill out our quote request form and we'll send you a free estimate.