Accuracy and clarity are essential components to a quality sworn translation. We guarantee verified translations by linguists with a mastery of legal terminology in the source and target countries.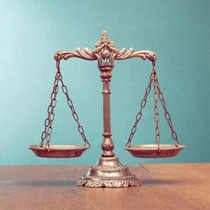 Our background is closely linked to the world of legal and administrative consultancy. All the translators in the NachTee network have extensive experience in this area, meaning we are completely at home with contracts, bylaws, and certificates.
Anything less would be unacceptable, since the delicate nature of legal documents demands maximum accuracy and attention to detail. We are aware that if the final text is interpreted differently in any way, serious problems, and even lawsuits, can result in the medium to long term.
For this reason, although we offer competitive prices, we always prioritize quality over profit. Our clients appreciate this because it means they don't have to worry.
At NachTee we guarantee that the legal translations we produce comply with the following quality requirements:
Assignment of an experienced legal translator with comprehensive knowledge of the respective legal frameworks in the source and target countries.
Texts that are 100% free of ambiguity, in which ideas and intentions are expressed with complete clarity so that only one interpretation is possible.
Texts that are natural and clear, avoiding circumlocutions, redundant expressions, archaic language, etc., which merely add confusion to the intrinsic complexity of these types of document.
Total commitment to confidentiality, which we ensure with our professional ethics and our security protocols with regard to the storage of data and documents
Strict compliance with deadlines, since we are aware of the negative impact a delay in providing these types of documents can have on a company's image.
Professionals qualified to carry out sworn translations, with certification from the Spanish Ministry of Foreign Affairs and Cooperation